Start your planning now for the 2021 NAB Show.
Leading into the 2020 NAB Show, NAB starts the 2021 Space Selection process by assigning current Exhibitors with their own unique appointment based on their Priority Point ranking.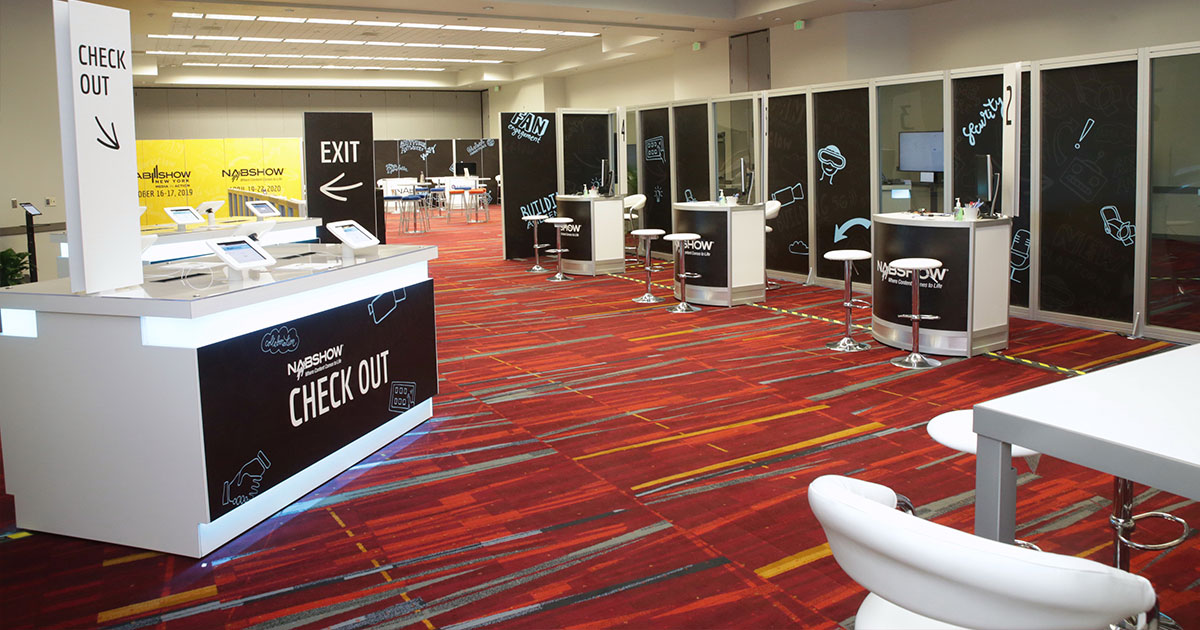 Appointments
500 appointments are held Pre-Show, via phone appointments. The remaining appointments are held Onsite, via in person appointments. Appointments are assigned in Priority Point order.
Your Appointment
Each exhibitor's assigned appointment window will be sent mid-March via email to your Exhibit Logistics Contact. If you need to update your contact information, email the Exhibit Sales Team.
Remember, appointments are set in Priority Point order. That means we cannot allow you to select before your assigned appointment time. Priority Point totals through the 2019 Show are posted in the 2020 Exhibitor Dashboard. Priority Point totals through the 2020 Show are being calculated now and will be posted at the time appointments are sent out.
If you cannot make your assigned appointment window but would still like to take advantage of your Priority Points placement, complete the Proxy Form. This form will allow the Exhibit Sales Team to select a space for you based on the requirements and preferences, you identify on the form. It is recommended that you complete the Proxy Form as close to your appointment time as possible, as booth availability will change. However, the form is due to the Exhibit Sales Team by 9am the day of your appointment. The Proxy Form will be made available mid-March.
Timeline
Pre-Show
Monday March 23 – Wednesday April 1
Pre-Show Space Selection will take place via phone appointments for companies holding rankings 1 – 500 in Priority Points.
Onsite
Monday April 20 – Wednesday April 22
Onsite Space Selection will be held in person during the 2020 NAB Show for companies holding rankings 501+ in Priority Points.
2021 Floor Plan and Dates
2021 Floor Plan
The 2021 Floor Plan will be available mid-March.
Save the Date
April 10 – 14, 2021
Exhibits 11 – 14, 2021
Rates and Payment Schedule
Indoor Exhibit Space
Rates
Save by contracting early!
NAB Member Rate: $48.50/square foot
NAB Non-Member Rate: $53.50/square foot
After space selection, rates will increase by $1.50/square foot.
To be eligible for the NAB Member Rate, exhibitors must be NAB Members in good standing for the 2020 – 2021 Membership period. Membership activation deadline is September 1, 2020.
Payment Schedule
Payment 1: The first 50% of the Exhibit Space Fee is due by June 15, 2020.
Payment 2: The next 50% of the Exhibit Space Fee is due by November 15, 2020.
Unlimited Material Handling
Rates
Unlimited Material Handling for Indoor Exhibit Space is $3.85/square foot
Payment Schedule
The full 100% of the Unlimited Material Handling Fee is due by December 1, 2020.
Unlimited Material Handling
Continuing in 2021!
Unlimited Material Handling, first introduced for the 2019 NAB Show, will again be an added feature of your 2021 exhibit space purchase. With this new model, in 2019, exhibitors collectively are saving nearly 40% on material handling services.
Under this new plan, you enjoy:
UNLIMITED Material Handling — Exhibit the way you need to. It's no longer cost prohibitive.
Predictable & Simple to Budget Rates — No surcharges. No surprise fees. Simple to calculate.
An Easier Experience — No more lugging materials yourself to avoid costs.
Learn more about Unlimited Material Handling and other initiatives that are part of the NAB Show Cares project.
Additional 2021 Opportunities
The Space Selection Process described above is for Exhibitors interested in purchasing 2021 Indoor Exhibit Space only.
Meeting Rooms and Hospitality Suites
Meeting Rooms and Hospitality Suites will be available for purchase in the months following the 2020 NAB Show. Your Account Executive will follow up with you when these opportunities become available. Information will also be posted on the Exhibit Opportunities page.
Outdoor Space Selection
This will be held after the 2020 NAB Show. A communication will be sent out to all 2020 Outdoor Exhibitors with additional information. If you are not a 2020 Outdoor Exhibitor, but you are interested in purchasing 2021 Outdoor Exhibit Space, email your Account Executive or the Exhibit Sales Team.